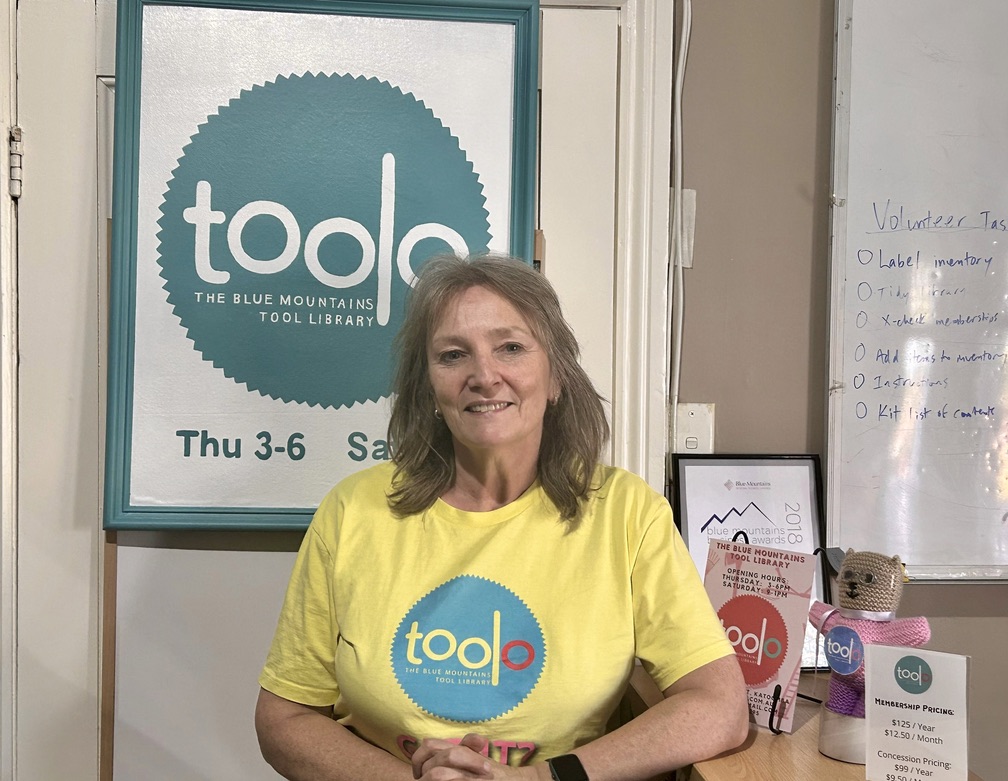 Deirdre O'Hara, Toolo Coordinator, at the tool library. (Liz Durnan)
By Liz Durnan
Last year my whipper snipper broke down. Not breaking news exactly, but with my overgrown garden threatened by advancing weeds and the fast-approaching bushfire season, I despaired of getting ready in time. Unable to repair it, I forked out for a new one, the old one destined for the bin.
What is news to me, is that in the heart of Katoomba, tucked away behind the Uniting Church, is a well-stocked tool library where you can borrow a whole range of quality power and hand tools.
When Toolo's Coordinator Deirdre O'Hara shows me around Toolo's library, I kick myself: more than one shiny electric whipper snipper is on display. I could have saved a fortune. Even better, one of the volunteer electricians at Toolo's Repair Café could have had a go at repairing my old one.
Deirdre explains that for only $125 a year ($99 concession) I could have borrowed a whipper snipper throughout the year (that's only $2.40 a week).
It works on an annual signed-up membership, rather than a one-off hire basis, so that members are covered by Toolo's insurance.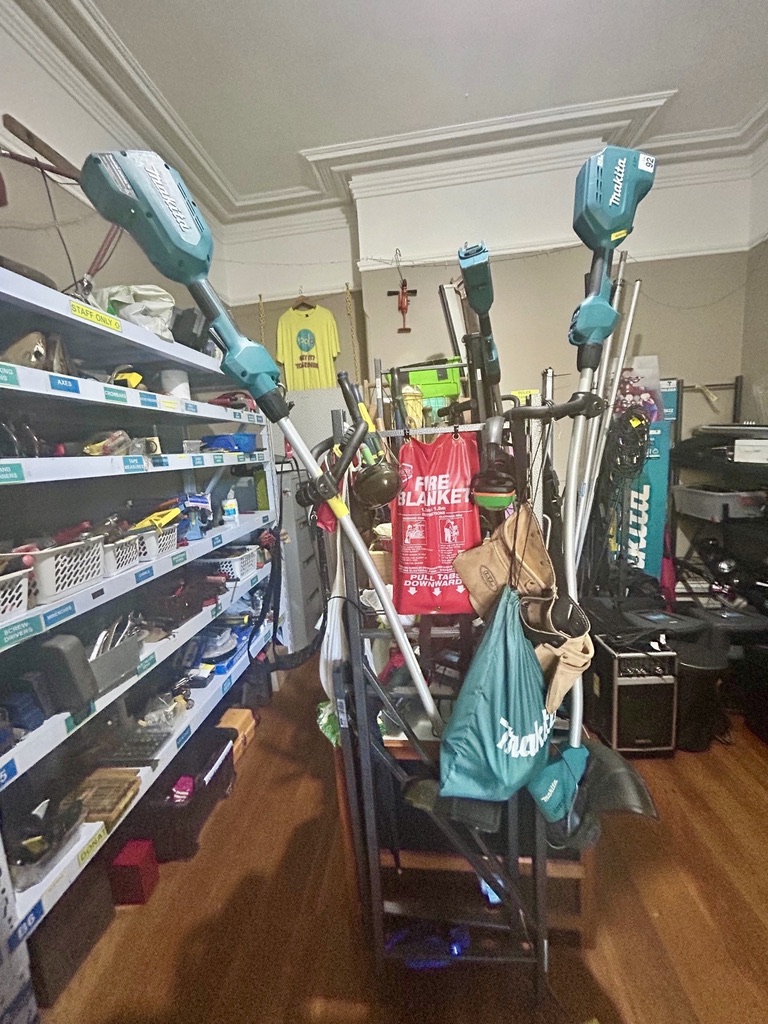 Whipper snippers. (Liz Durnan)
Sadly, it happens all the time. We need a major tool for a one-off DIY job but we're reluctant to waste that money on a quality tool only for it to languish in the shed gathering dust and rust and cobwebs. So we're tempted to buy cheap items from the hardware or discount chain store. But they often end up falling apart and eventually need replacing as well.
Then there's those garden tools for jobs that may only need doing a couple of times a year.
Or you're having a big party for a special occasion. You might need a sound system, tables, a pergola, but you may use them only once in a lifetime.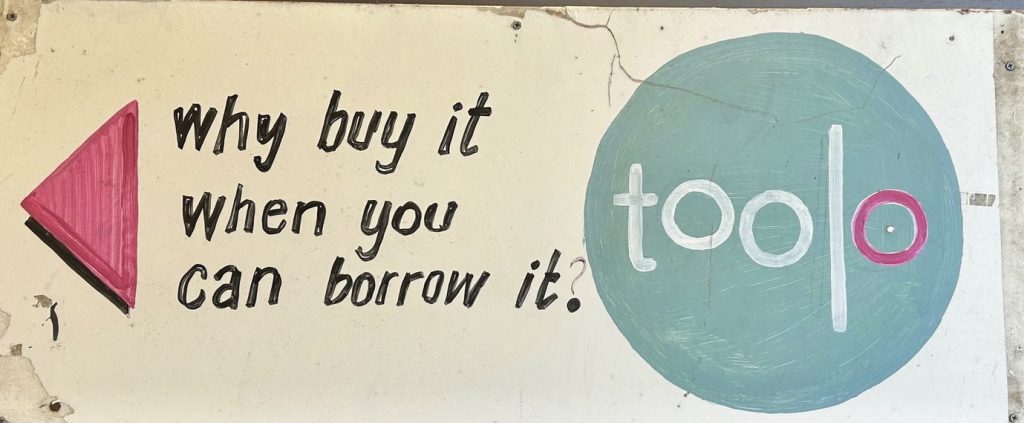 Why buy it when you can borrow it logo. (Liz Durnan)
It pains me to think of all those parts being cast away: the precious copper mined from the earth, the labour that's gone into intricate fabrication, the plastic body that's not remotely recyclable and will linger in landfill for years to come.
Deirdre is all too aware of the cheap products that break easily. They see a lot of them at the Repair Café.
"They last a month, one or two uses, and then a plastic part breaks. The repair guys here tell us they can't replace it and the part isn't available. Then you'll have to buy another one."
Of course, we could also borrow from friends, neighbours or family, but we've become more disconnected as a society. We might not live near family or we may have never even spoken to our neighbours. We might be reluctant to borrow from friends: What if it breaks while we're borrowing it or what if they resent us for the wear and tear?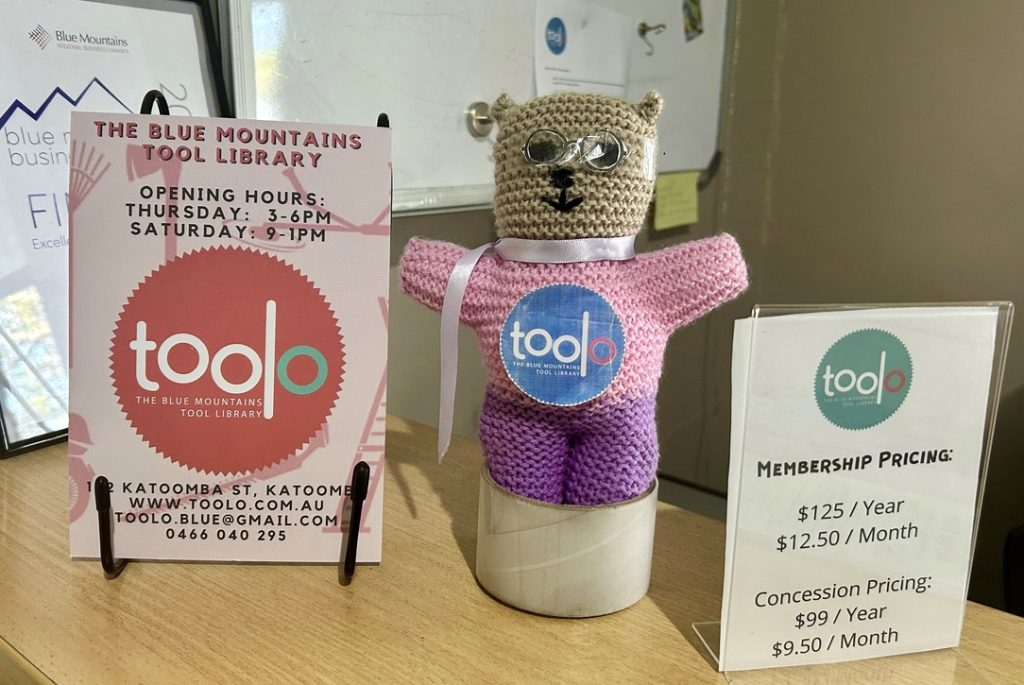 Toolo Teddy & price list. (Liz Durnan)
That's where Toolo comes in. It's a community where we can pool our resources. The reasonable membership fee allows us to borrow a generous 20 items a week.
I'd heard about Toolo before, but I didn't totally understand the concept. In fact, it's pretty straightforward when Deirdre explains it to me. "Toolo is a community library based on memberships," she tells me. "We have everything from gardening tools to AV equipment, to manual tools, to ladders, to painting equipment, to musical instruments."
Toolo was founded in 2018 by its manager, local curator and producer Justin Morrissey. Justin now hopes that community spaces such as tool libraries and repair cafes will sprout all over Australia.
In 2020, as part of a Churchill Fellowship, Justin visited spaces around the world, including Munich and Edinburgh, that are leading the way in reducing waste by nurturing communities to pool resources and skills.
In his report, he noted that our society is undergoing "one of the most momentous periods of technological change and transformation."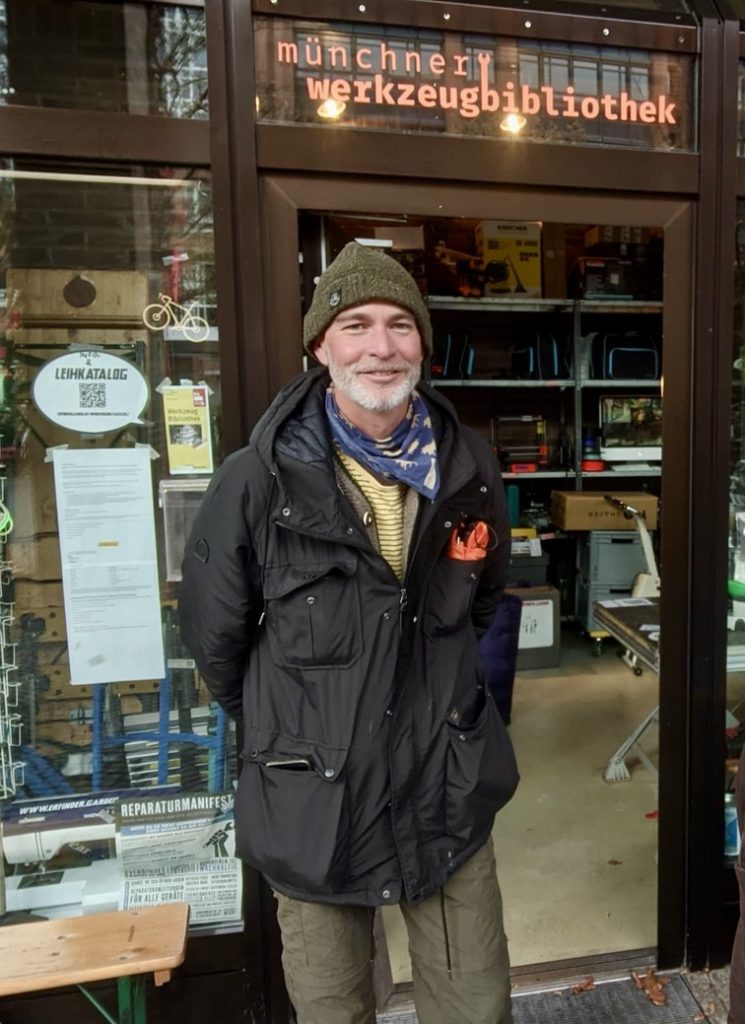 Justin Morrissey at the Munich Repair Cafe (supplied)
To keep traditional crafts and a 'making culture' alive, tool libraries and other types of community spaces play an important role, according to Justin:
"Harnessing and leading this technological and social innovation revolution in making culture are the Maker Spaces, Fab Labs, Mens and Women's Sheds and Tool Libraries emerging in every town and city across the globe.
"They enable people to create and experiment with technology and different types of materials… they offer opportunities for creativity, learning, collaboration, social cohesion and innovation."
As well as being focused on the sharing economy, and reducing waste, they also provide educational opportunities.
This is apparent at Toolo's Repair Café, held every third Saturday of the month from 12-3pm. The volunteers helping here are mostly qualified electricians but there are people skilled in other areas.
According to Justin, "the goal of a Repair Café is to promote repair as an alternative to disposal and to encourage a culture of repair and reuse."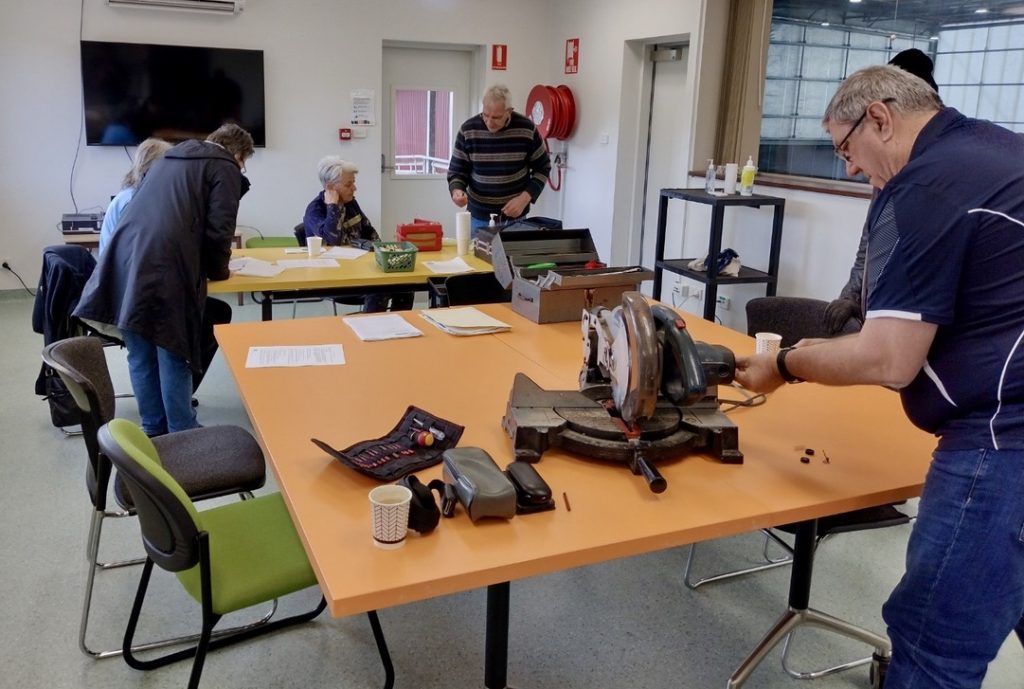 Volunteers fixing tools at Toolo's Repair Cafe (supplied)
"You can bring in anything that's portable," Deirdre says. "They'll have a look and see if they can repair it and tell you whether it's worth repairing."
The volunteers do this for free. Members pay for the part if it needs replacing and make a donation for the upkeep of the tool library.
Deirdre tells me popular items for fixing at the Repair Cafe include lamps and cooking appliances. She points out a kitchen mixer on the shelf successfully mended by one of Toolo's volunteers.
Sewing machines and gardening equipment are other regular items, although Toolo will only repair gardening equipment powered by rechargeable batteries, nothing that runs on petrol or oil.
While Toolo is starting to play a crucial part in addressing the problem of excess waste in our throwaway society, Deirdre is keen to attract more members.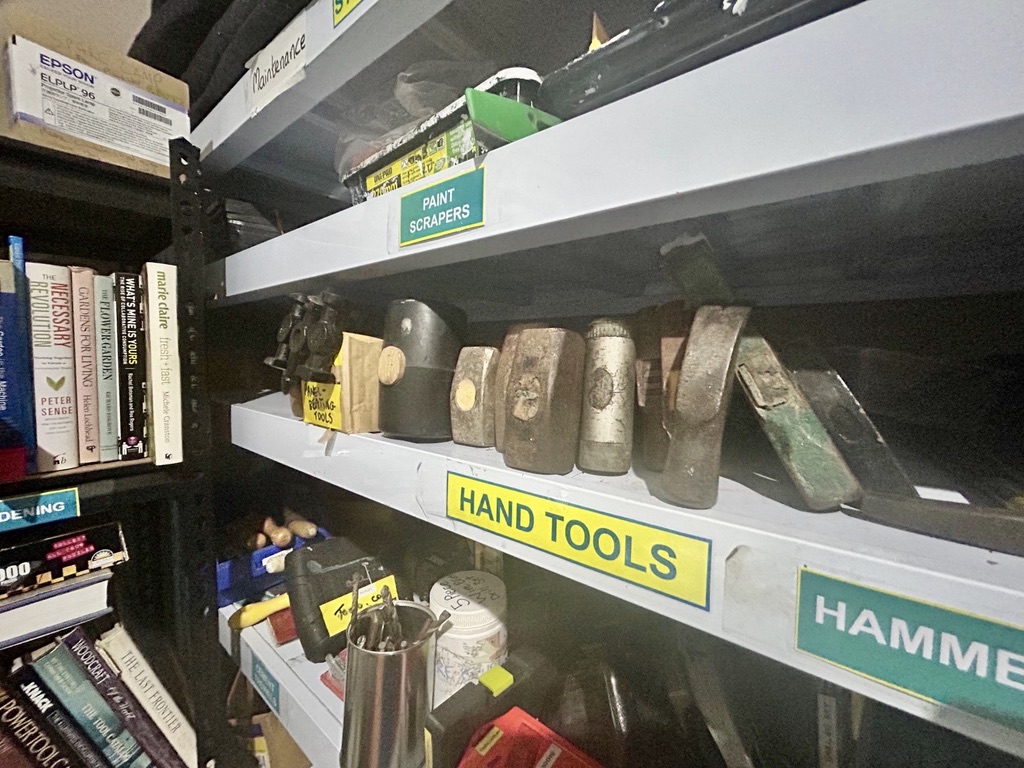 Row of hand tools. (Liz Durnan)
At the time of writing, Toolo has 97 members, with 250 as their current goal. That's fairly modest, considering what's on offer here. I can't help thinking that if only more people knew about Toolo, they would be beating a path to their door.
"We need more awareness to grow our membership," she says. "We can't afford advertising, so we need to find ways of being promoted in the community, because it's a fantastic way of sustainable living and it just saves so much."
Justin is hopeful that tool libraries and repair cafes will continue to grow in Australia, and that all levels of government will get on board with support, for example in the form of grants, subsidised rents and promotion. And he sees potential for collaborating with business too. In turn, the spaces create jobs in manufacturing and in administration.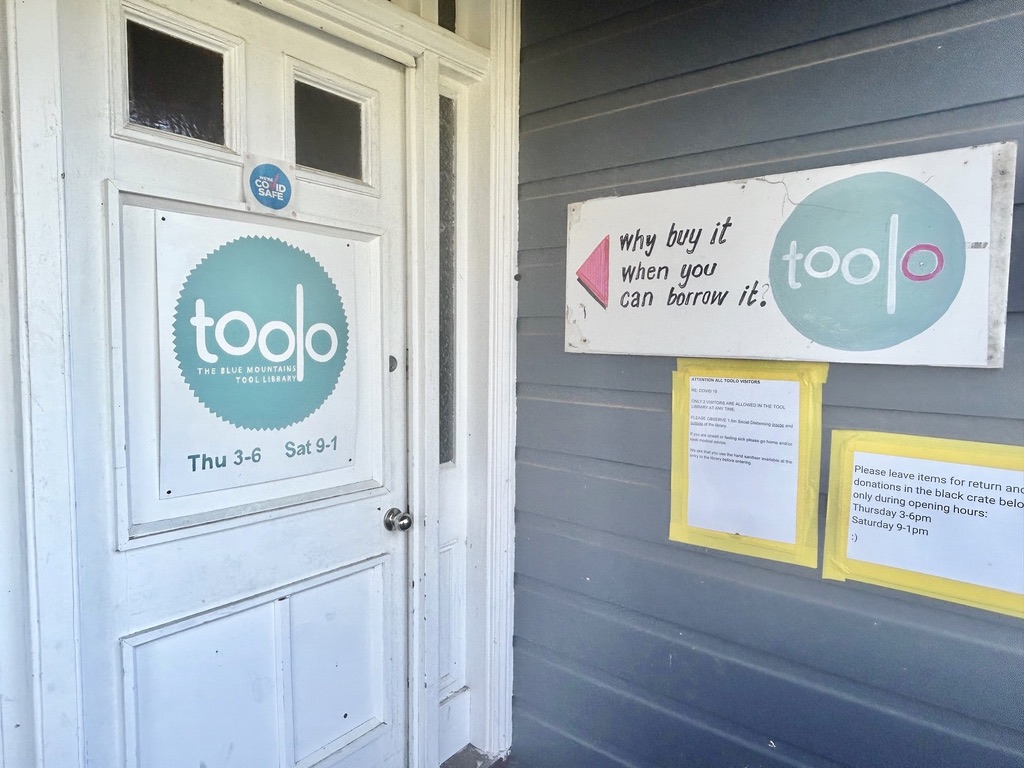 The front door of the tool library. (Liz Durnan)
"With greater support for these initiatives, comes the wide raft of benefits from civic engagement, solutions to complex environmental challenges, and more inclusive and sustainable societies," Justin said.
"Investing in these new entities and its people, this sector can be a force for change and enable an inclusive and sustainable future for Australians."
Toolo is a registered charity and uses membership fees to pay the rent and utility bills. Anything left over goes to new tools, purchasing quality products and favouring reputable brands, such as Makita (those whipper snippers again) with rechargeable batteries, all regularly tested and tagged.
"We have three of those," Deirdre says and we both turn to admire the whippersnippers. "They're our most popular tools during the summer, so when we have extra money we'll often buy an extra one because they get a lot of use."
Deirdre values most the sense of community Toolo provides. "I love being here and meeting all the different types of people that support us. And what we're doing to create a circular economy. We're promoting that vision."
For more information: toolo.com.au/ or follow on Facebook: https://www.facebook.com/tooloBlueMountains
When you become a member, you log in online and reserve an item: https://toolo.com.au/library-collection/
What the Toolo Library has: /toolo.com.au/library-collection/
More on tool libraries generally: https://www.alotnetwork.org/
Toolo is at 142 Katoomba Street, Katoomba (behind the Uniting Church, behind the Op-Shop at Junction 142)
The $125 a year ($99 concession) membership allows you to borrow 20 items per week, every week of the year. Or there's a PayPal plan where you take out the full annual membership but pay on $12.50 a month (9.50 concession). NB. Prices current to June 1 2023.
Toolo opening times:
Thursdays, 3-6pm
Saturdays, 9am-1pm
This story has been produced as part of a Bioregional Collaboration for Planetary Health and is supported by the Disaster Risk Reduction Fund (DRRF). The DRRF is jointly funded by the Australian and New South Wales governments.