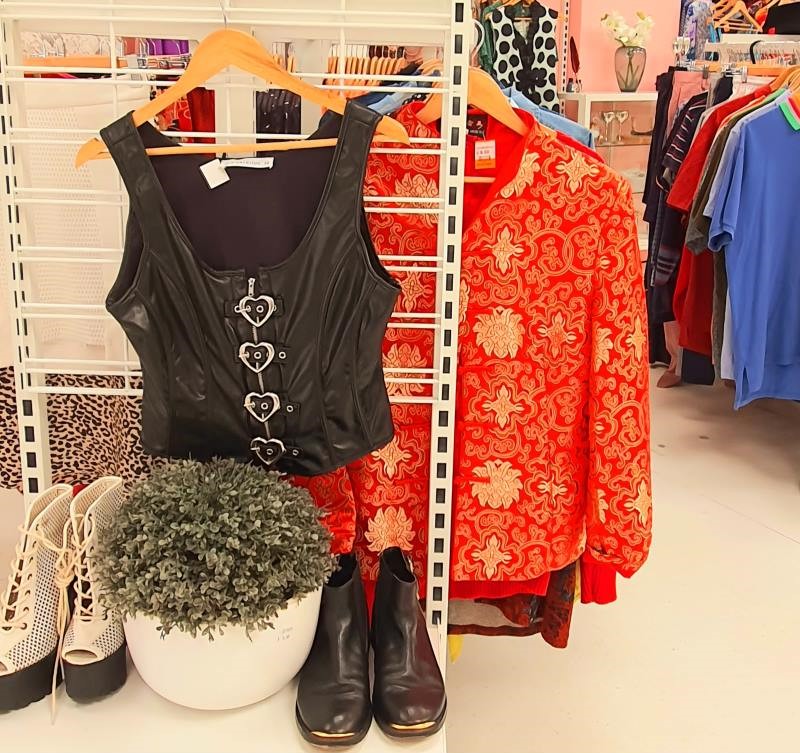 Secondhand clothing in the 'O' range at Salvos – funkier, original and big brand labels for shoppers on the hunt for their own unique style.
Story and photos by Linda Moon
Katoomba Street's famous profile of eateries, quirky shops, cold-climate street plantings and cockatoos is ever changing. And the latest transformation favours the circular economy.
---
Key Points:
Secondhand shops are booming in Katoomba and helping drive the circular economy.
Katoomba has 20 different options for secondhand, thrift, vintage and antique shopping.
Young people, environmental awareness and tougher economic times are helping fuel the trend.
---
In October, observant locals will have noticed that two popular op shops (Anglicare and the Salvos) have relocated into prime positions within the tourist town's main street.
Cayte Moxom, area manager for the Salvation Army (Central West), says the relocation of Salvos (previously in Waratah Street) is about being bigger and more accessible to the public. The move also involves a transition of the store from family/church run to an arm of the Salvation Army.
Doors officially opened on Wednesday 25th October.
A few doors down, the Anglicare Op Shop is also benefitting from a new location. The busy 195 Katoomba Street store recently relocated to expand into a bigger space. It's a sure sign the secondhand economy is thriving.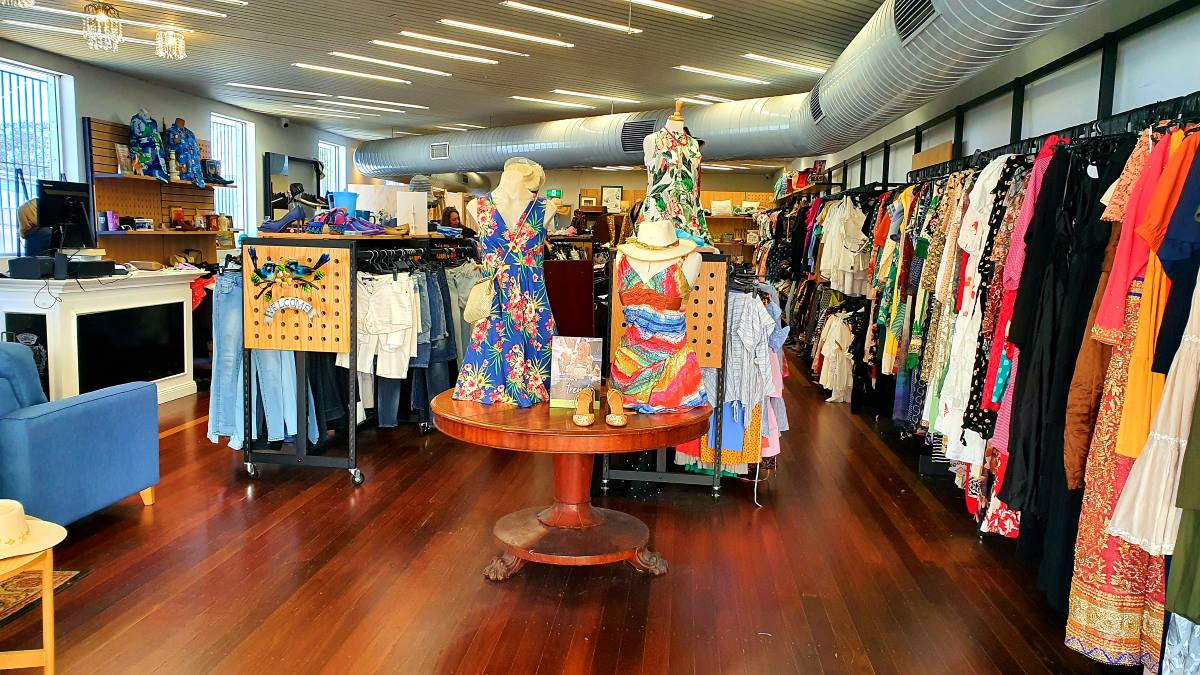 The new Anglicare Op Shop. Bigger and better with more floor, rack and shelf space and room to move.
Thriving Centre for Retro
Katoomba now offers 20 different options for secondhand shopping. Featuring something for different budgets and tastes, these include charity-based op shops, vintage options, antique centres and the free reuse shed at the Katoomba Resource Recovery and Waste Management Facility.
See our guide to all 20 Katoomba Op Shops, Vintage & Antique Stores >
"Although we're competitors," Moxom says, "the more charities you have, the more choice."
The growing trade in vintage and secondhand is further establishing the town as a thriving centre for retro and originality.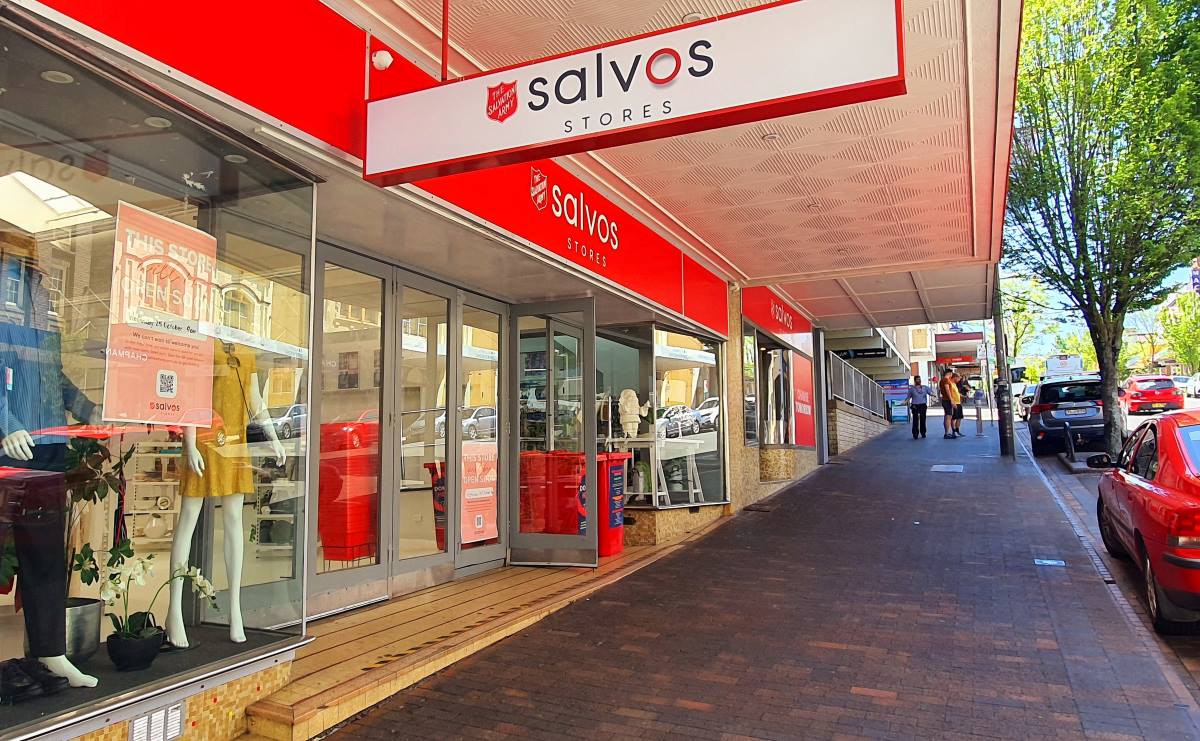 Boom time for Op Shops. The new Salvos Op Shop in Katoomba Street, one of 20 secondhand shops in Katoomba.
Boom time for op shops
Moxom says the secondhand sector is growing in Katoomba and elsewhere. She attributes it to harder economic times and affordability factors plus greater interest in sustainability and avoiding fast fashion.
People are more interested in considering the environment and planet in their purchases, and doing good in their local community. We're in a national park, we have the Planetary Health Initiative and a community committed to caring about the environment. – Cayte Moxom
The global market for secondhand apparel is predicted to almost double by 2027 (to $350 billion) according to a report by Thredup. In fact, it's predicted to grow three times faster than that for new fashion. Which is great for the environment!
Synthetic textiles have become a big environmental problem, Moxom says. Petroleum-based fabrics, like acrylics, elastine, polyester and lycra, don't break down. Thus, recyling and re-using fashion can help.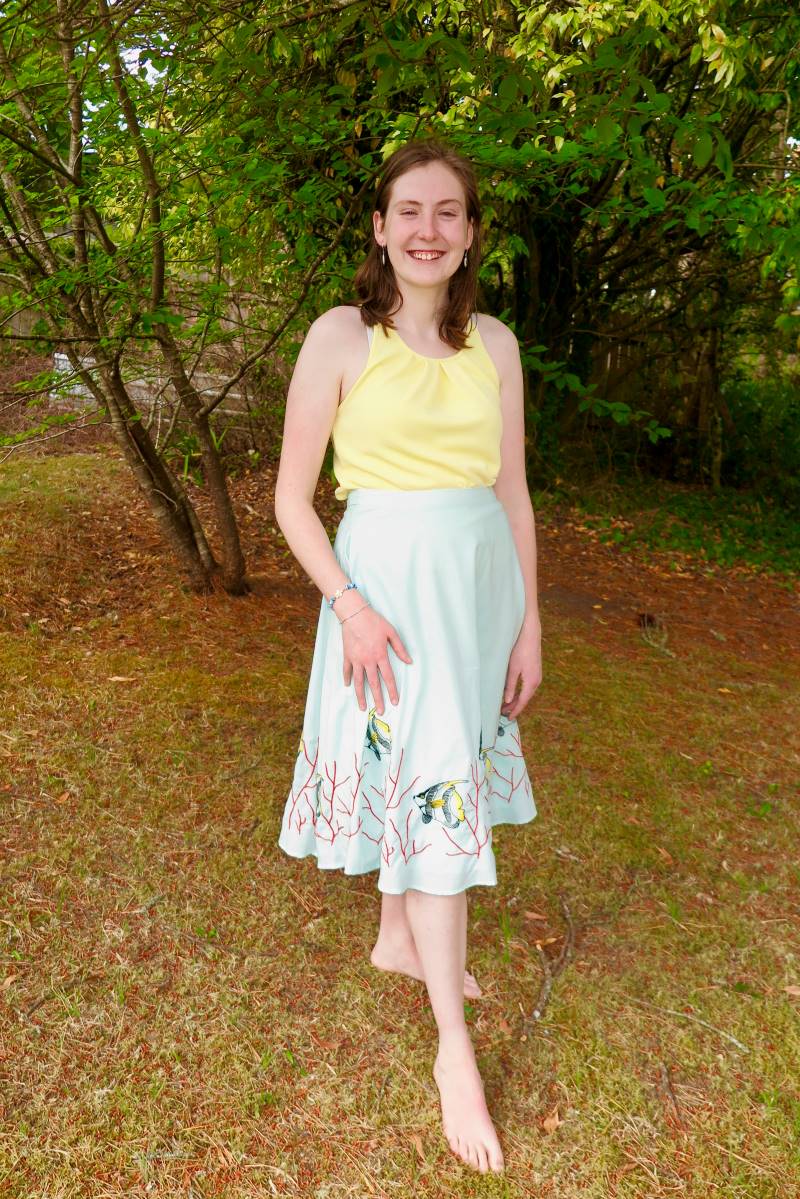 Katoomba local, 19-year-old Amy James, modelling clothing she purchased from Katoomba op shops.
Secondhand hits the mainstream
While once we may have felt shame in shopping at op shops, secondhand shopping is mainstream now, Moxom says. "The idea that people who shop in op shops can't afford it is no longer true. Also, young people want a point of difference and don't want to wear what everyone else is wearing."
A study published by The Conversation found second-hand shopping associated more with style-consciousness than either frugality or environmental awareness.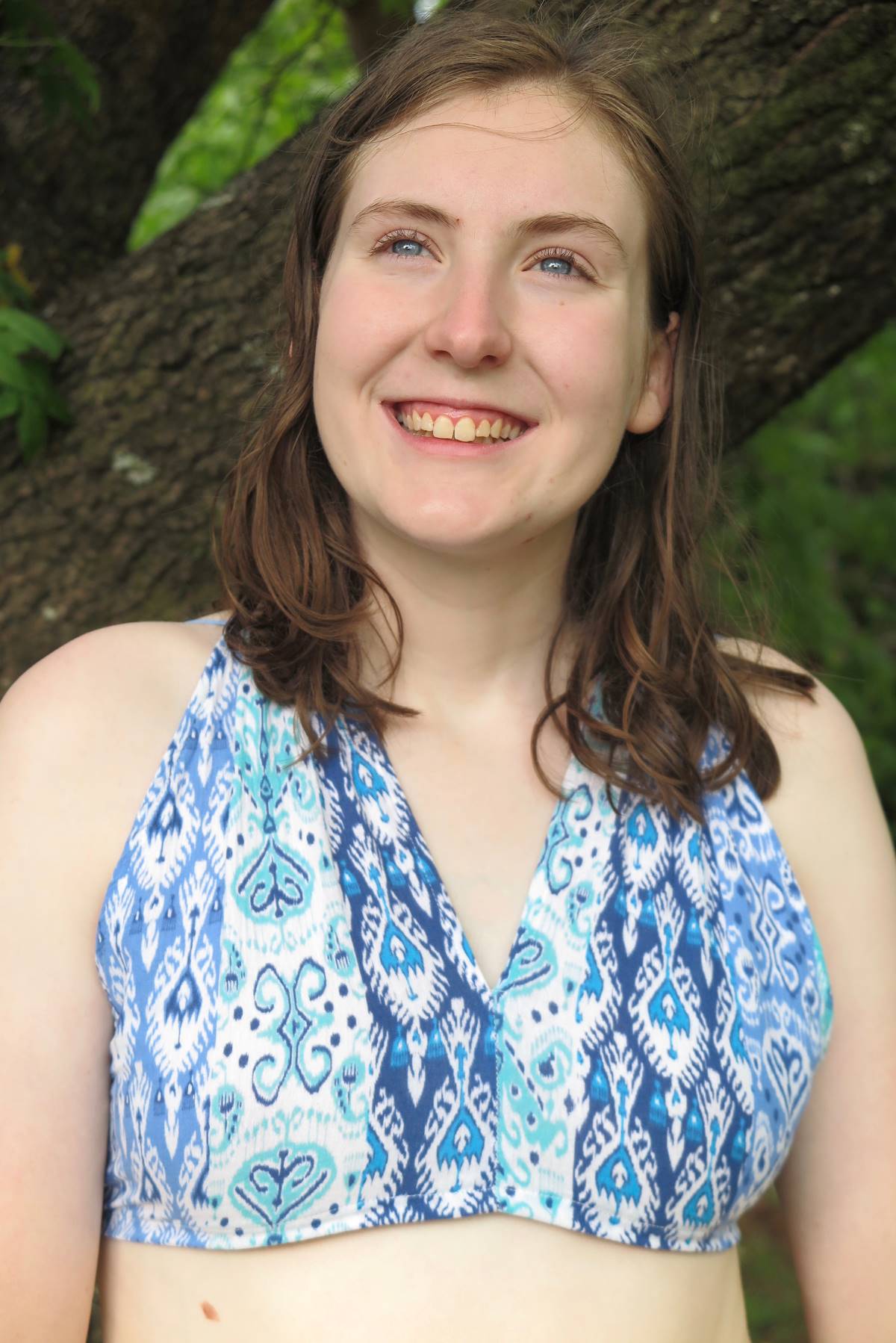 Local outdoor guide, Amy James, in upcycled summer top she hand made from op shop ware.
Youth embracing secondhand
19-year-old Katoomba local, Amy James, is one of many young people who see worth in buying 'pre-loved' goods. About half her wardrobe is secondhand.
It's cheaper; it's better for the environment, it's fun, a bit of a treasure hunt. You never know what you'll find. It's also inspiring thinking what you can make from it. – Amy James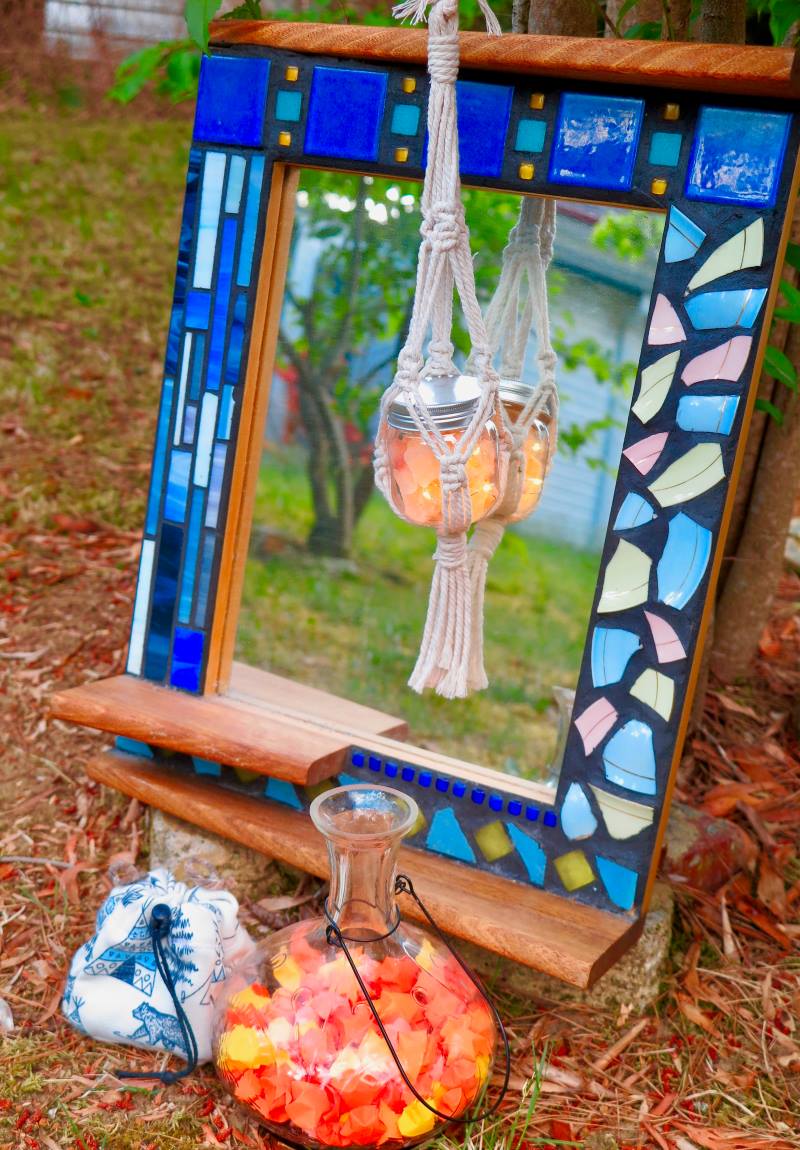 Mirror, lanterns and chalk bag made by Amy James from trash and treasure purchased in op shops.
The joy of upcycling
Amy, who works as an outdoor guide, upcycles finds from secondhand and op shops into unique clothing and household decor items. She recently refashioned an old mirror using mosaic materials she made from smashed teapot saucers and cups, bits of stained glass and tiles found in secondhand shops. She also handcrafts table runners, pillowcases, mosaics, lanterns and belts (the latter are made from old ties).
Making her own chalk bag (used in the climbing industry) has saved her heaps. The chalk bags typically retail from between $20 to $70, she says. The creative climber made her own using recycled fabric and a friendship bracelet.
Amy plans to start a market stall and promote her unique, handcrafted items on Instagram at theclumsypenguinau.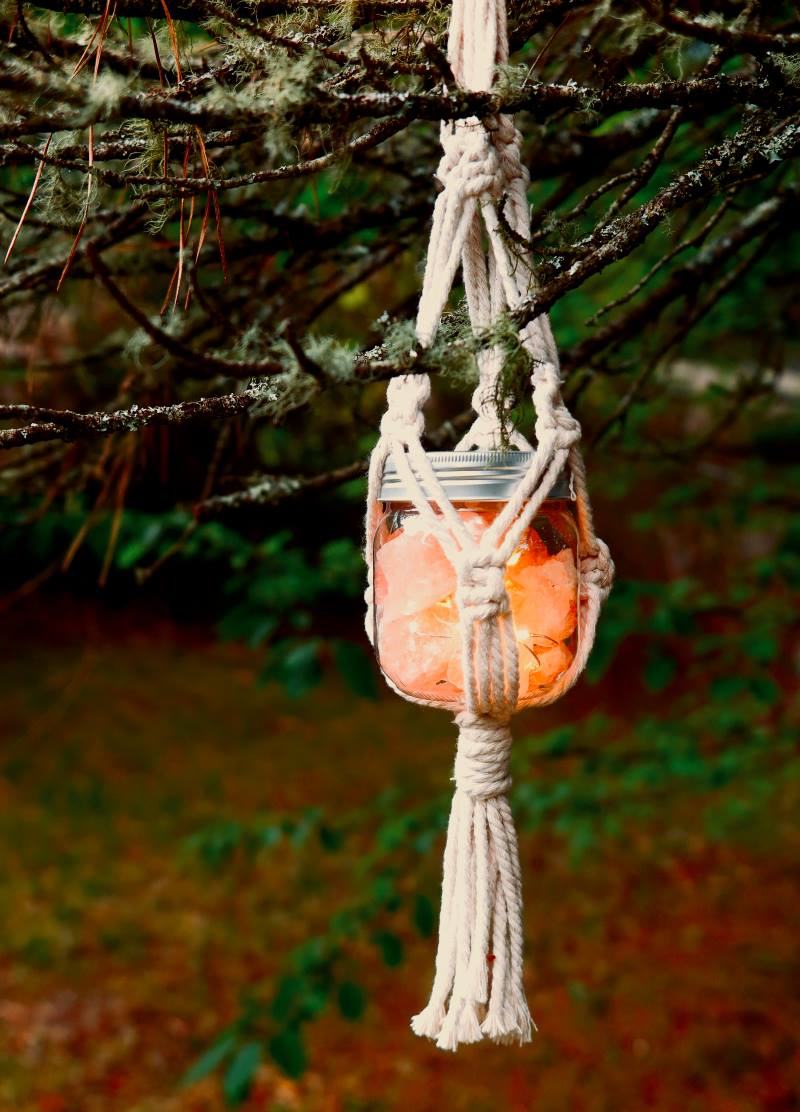 Lovely hanging lantern made by Amy James using recycled jars from op shops.
Cancer Wellness Op Shop a recycling hero
Amy's personal favourite for fossicking is the Cancer Wellness Op Shop in North Katoomba. "It has heaps of stuff," she says.
A popular locals haunt, the op shop also won a coveted expert accreditation for "clothing reuse" from Charitable Recycling Australia (in 2023). The charity recycles a remarkable 95 per cent of all the goods it receives. It also donates unsaleable goods overseas.
Like other charitable thrift shops, most funds go towards local charities and thus feed back into the community.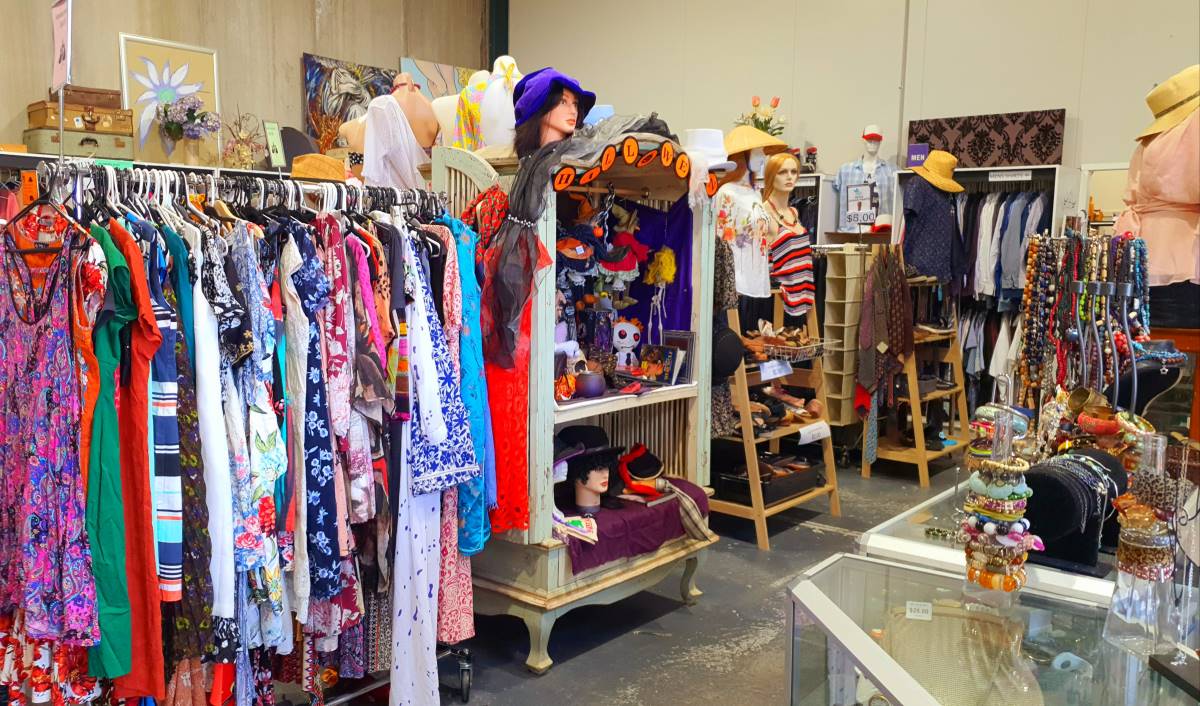 Cancer Wellness Op Shop, Katoomba – a Blue Mountains favourite for secondhand shopping.
---
Take Action:
Go op-shopping in Katoomba instead of buying new
Recycle old clothes that can't be donated through BMCC's Clothing and Textile Recycling Program
Get together with friends to hold a clothes swap party to freshen up your wardrobe!
Share this article:
---
This story has been produced as part of a Bioregional Collaboration for Planetary Health and is supported by the Disaster Risk Reduction Fund (DRRF). The DRRF is jointly funded by the Australian and New South Wales governments.